Why Upcycle?
With Spring around the corner, the urge to redecorate at home is hitting that high once again! We love changing up little things in our homes every season (or maybe even more frequently…) but sometimes that can add up – and we aren't just talking about for your budget. We know how much of an environmental impact purchasing a lot of goods, often, has on our Earth, so we are big fans of not only thrifting, reselling, and multi-purposing items, but also recycling them into something new all together! Upcycling is a really great way to get new life out of something old or take something you found at the thrift store or a yard sale to a new level. With our upcycling goal in mind, we rounded up some great ideas we have come across in our own journeys to making less of an environmental impact!
Upcycling and Reuse Ideas
Reuse Old Glass Jars for Bathroom Organization – this is a super simple project that is something that is great to get you started on your upcycling journey and serve as useful storage in the bathroom, too!
Wine Cork Board – this one goes out to my wine-rs out there! We often toss corks away when we're done with a bottle, but why not save them up and make a useful pinboard instead! You can customize the size, so it can work for spaces of all types!
Spoon Rack – Hammer out a new use for those random, extra spoons (or forks) you have laying around into a place to hang your mugs, tea towels or maybe even ironically, your cooking utensils!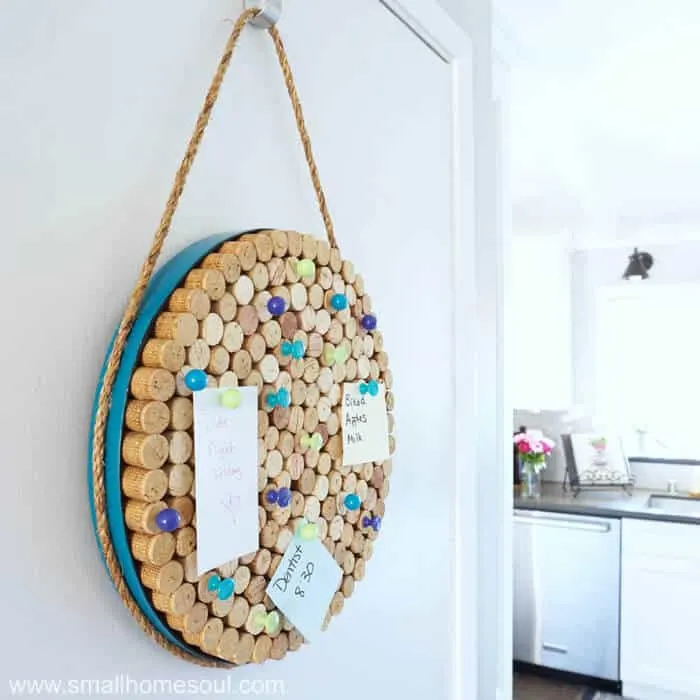 Upcycle a Wool Blanket Into These Comfy Winter Pillows – old blankets are abound at the thrift store, and more often than not, at home as well. Once again, Queen Martha tells us all about turning a drab old throw into a super cute pillow cover. They used a winter-inspired throw, but you could easily swap a throw for an outdoor tablecloth and make some funky outdoor cushions, too.
DIY Hanging Wine Bottle Pendants – another wine-related DIY! This is a little higher on the DIY ability scale, but we love the way this old bottle sees new life as an actual light so much, we had to include it! There's so many customization options here too – paint, cord kit, even the bottle shape and size you use.
Give Old Maps New Life as Tile Coasters – Everyone needs coasters in their home. There, I said it! Protect your furniture from stains and rings by always using a coaster, and why not make it a unique one at that? Bonus points if you find a map that features a special place to you and your family to use.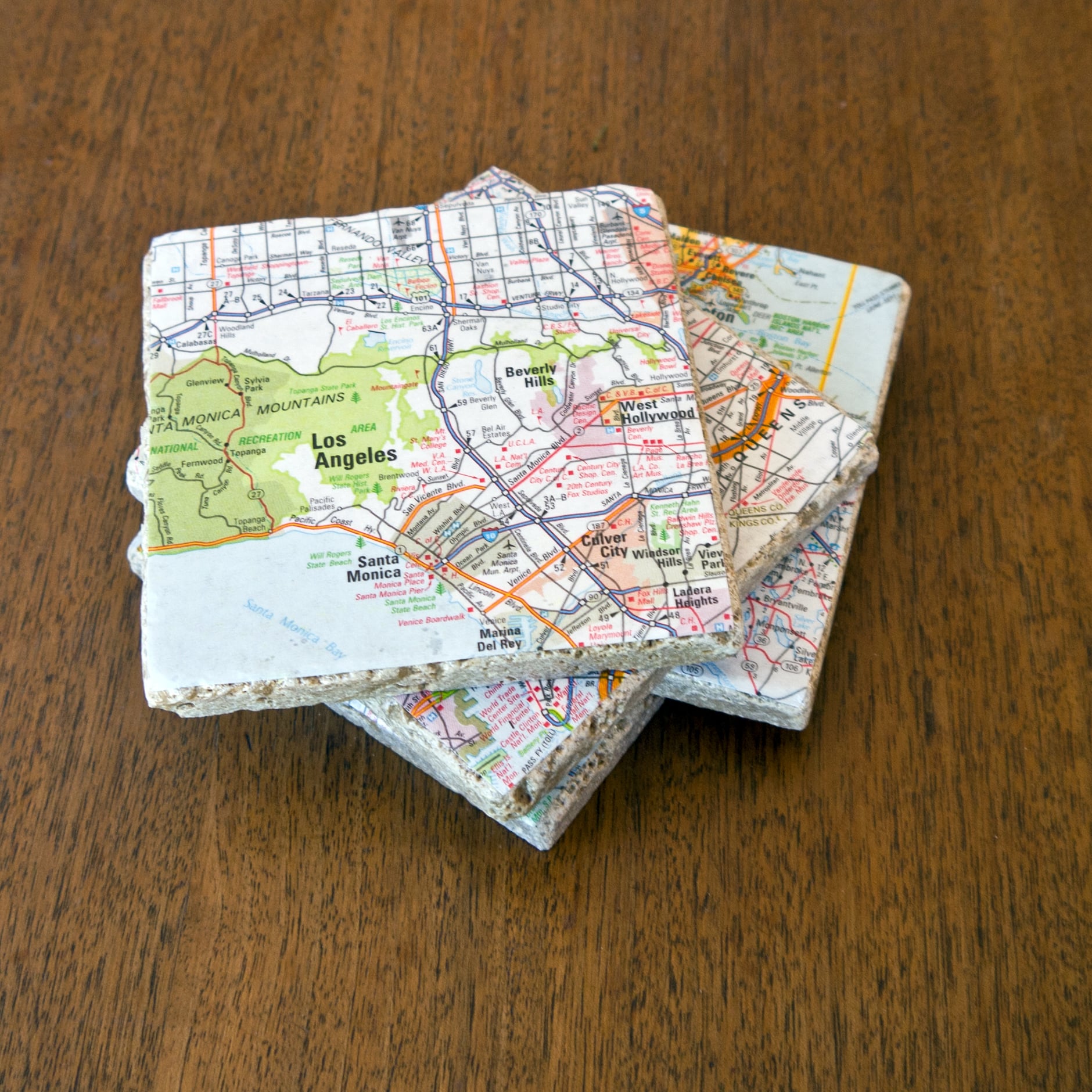 Upcycling A Writing Bureau Into A Cocktail Cabinet – A home bar might just be one of 2020's most wanted – but not all of us have a place to build in a fancy wet bar at home. Turn a common flea market find into your dream pop-out bar (or coffee bar) with a few strokes of the paintbrush or stain!
How to Make a Suitcase Coffee Table – this is a seriously cool idea, especially for those who love to travel as much as we do! Maybe you have an old suitcase that's hanging out in the attic, or maybe it's something you see at the thrift store often, but either way, this is an idea worth checking out!
Upcycle A Bar Stool Into A Narrow Bedside Table – I always see these kicking around – in basements and at yard sales alike! This is basically a 2 part solution – upcycling AND solving a common small space problem in one! It's a nice and simple flip, too, so you can have a new nightstand(s) in no time!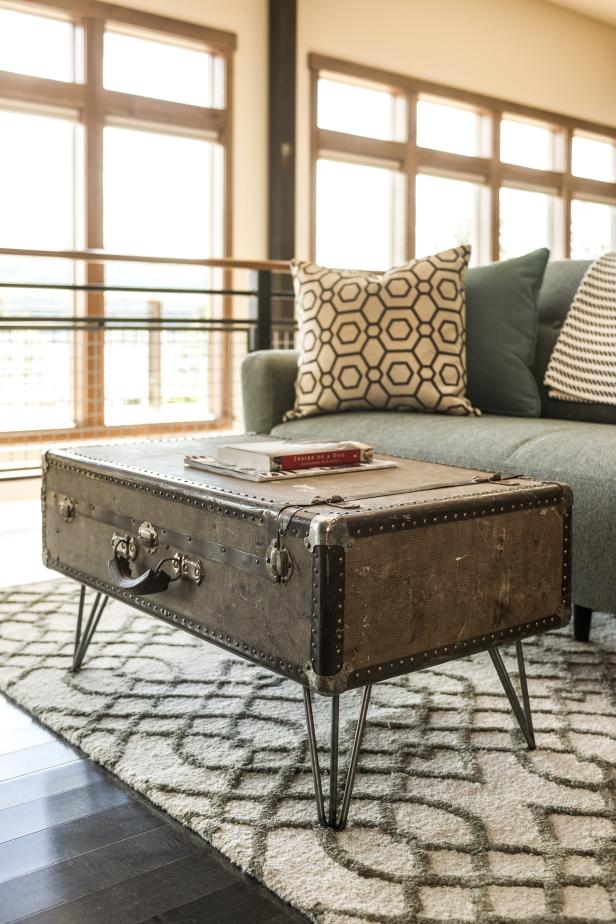 Laminate Cabinet Transformed Into Green Boho Style Cabinet – talk about a transformation! This awesome upcycle's premise could be applied to old shelves or cabinets you already have at home, or when you see that perfect piece on the side of the road (just me or?!) but you think it's just too ugly to repurpose. It's a great lesson in getting inspired by an expensive piece and making a DIY version for much, much less.
DIY Entertainment Center Into a Play Kitchen – this is for the kiddos! Plastic kid-chens are pretty common, but what about giving your little one their own custom kitchen made out of an old school entertainment system?! This has to be one of the most unique repurpose ideas we have seen in our searches, and it can really be a special gift to your kids as well!
Beautiful DIY Ottoman – it's all in the name with this one! This palette and old foam mattress pad get new life as a custom ottoman in this fun upcycle project! We love that you could make this fit your style easily by choosing different leg options and fabric, too.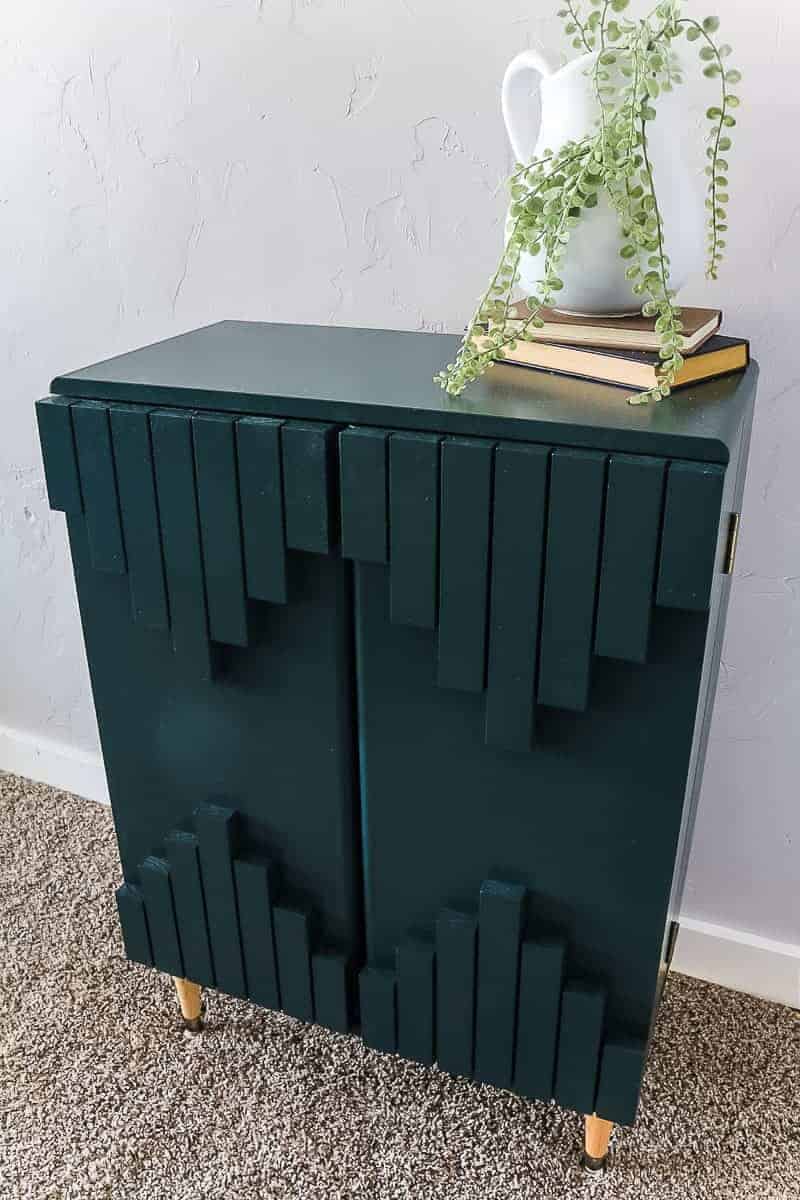 That's it! Those are some of our favourite ideas from around the internet for getting inspired to upcycle and repurpose your trash into total home décor treasure. It's all about taking the best parts (or maybe the worst!) of something and bringing it to a whole new level. What was your favourite upcycling project from this post? Tell us in the comments or send us a message to let us know what you're working on!
IF YOU LIKED THIS POST, CHECK OUT OUR MOST RECENT POSTS